There has been some rather interesting volatility so far this year in the trend following business. As of end of April several funds hit their all time largest drawdowns and an overwhelming majority of all the trend funds were heavily down. In May things looked a little better, where the long bond trade really paid off for those who dared to go all in on it. The long dollar theme and the connected short non-agricultural commodities did quite well in May too. June has proved more difficult so far though. The Core strategy has seen both -12% and +12% in a matter of two months and the overall result has moved back to the zero line leaving nothing to show for the volatility seen.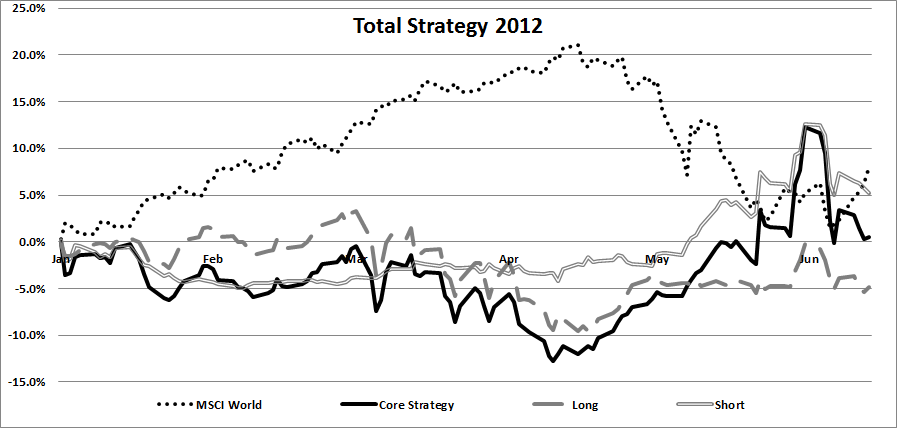 Early in the year the world stock markets were leading heavily against the trend followers but as the worries came back over the European situation the markets fell while the trend following strategy gained. After being equal for a few weeks the equities are now showing a small lead over the futures as we are approaching mid-year.
As mentioned previously, the most stable gainer this year has been the agricultural commodities and in particularly the short side of that game. The long bonds did very poorly in March but has since been fighting its way back up again. Just before the shift of the the month into June, the bonds showed a very strong spike up, adding to the end of month results to many of the CTA funds. As you can see in the sector chart, this spike up didn't last long and there is a risk that many of these funds took some losses this month.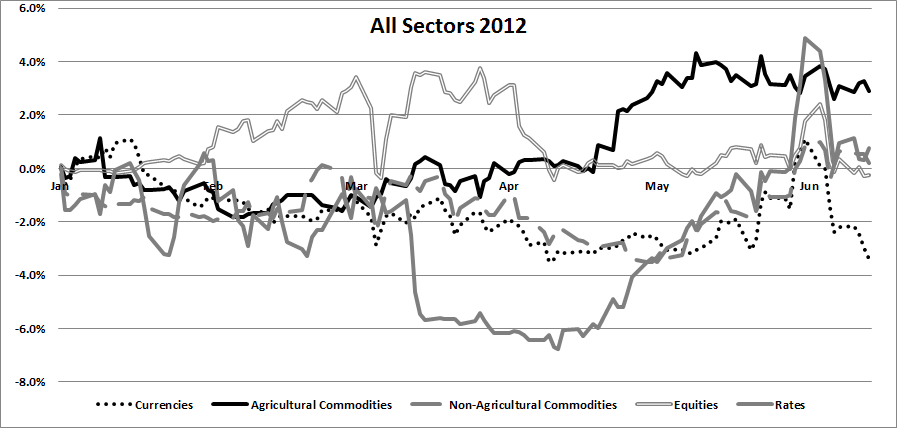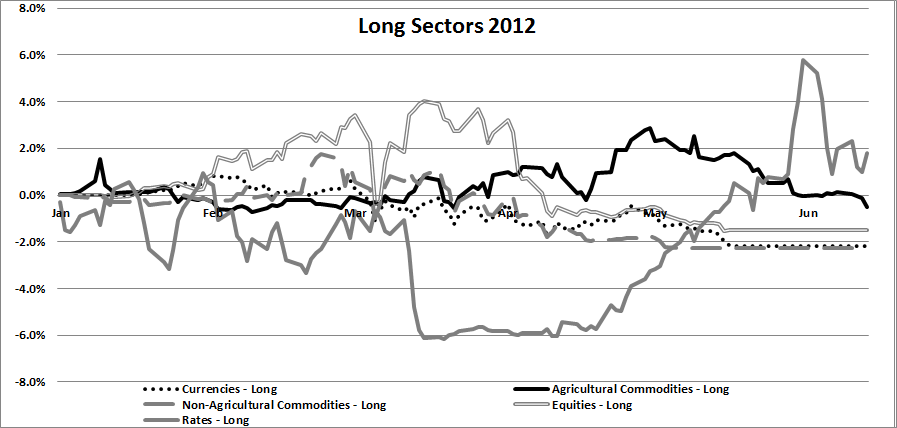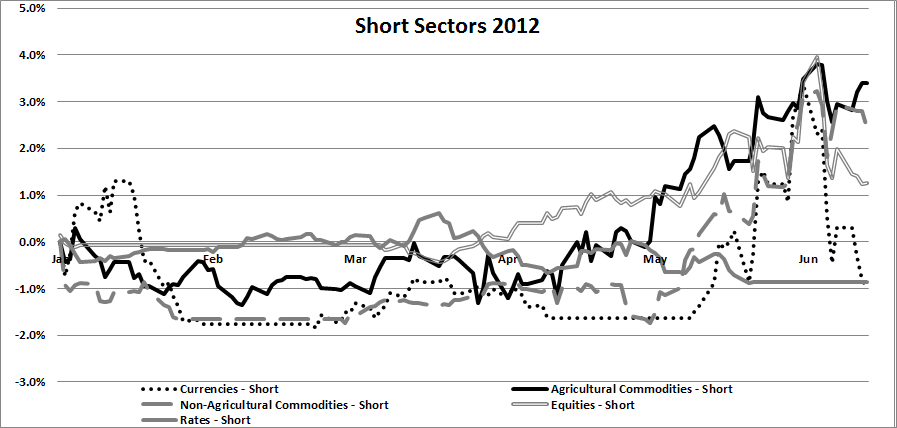 The largest themes at the moment is long dollar, long bonds and short commodities. This means that we are holding a bearish portfolio and the risk level is quite high. Up or down, expect some volatility in the next few weeks while the European mess unfolds further.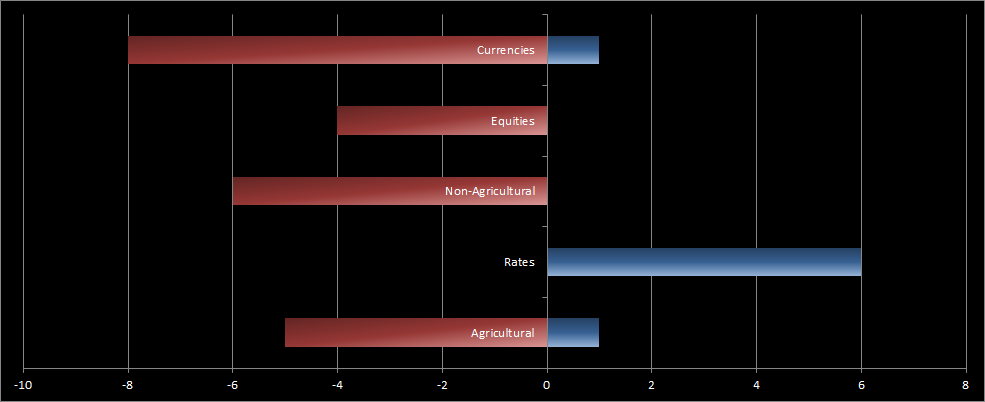 With a large exposure in long dollar bets and long rates, the European political situation will be main driver of performance in the next month. Overall we are positioned for a bearish market climate.
| Market | Direction | Sector | Entry Date |
| --- | --- | --- | --- |
| Corn | Short | Agricultural Commodities | 2012-05-25 |
| Cotton #2 | Short | Agricultural Commodities | 2012-05-11 |
| Coffee | Short | Agricultural Commodities | 2011-12-13 |
| Lumber | Long | Agricultural Commodities | 2012-05-29 |
| Rice-Rough | Short | Agricultural Commodities | 2012-06-04 |
| Sugar #11 | Short | Agricultural Commodities | 2012-04-19 |
| Australian Dollar | Short | Currencies | 2012-05-16 |
| British Pound | Short | Currencies | 2012-06-06 |
| Canadian Dollar | Short | Currencies | 2012-05-29 |
| Euro | Short | Currencies | 2012-05-10 |
| U.S. Dollar Index | Long | Currencies | 2012-05-16 |
| Mexican Peso | Short | Currencies | 2012-05-16 |
| Euro/Swiss Franc | Short | Currencies | 2012-04-06 |
| Euro/Japanese Yen | Short | Currencies | 2012-05-16 |
| Swiss Franc | Short | Currencies | 2012-05-15 |
| Hang Seng China Enterprises Index-HKEX(HKFE) | Short | Equities | 2012-05-11 |
| Nikkei 225 Index | Short | Equities | 2012-05-31 |
| MSCI Taiwan Index | Short | Equities | 2012-05-21 |
| DJ Euro STOXX 50 Index | Short | Equities | 2012-05-15 |
| Crude Oil-Light | Short | Non-Agricultural Commodities | 2012-05-17 |
| CopperHG-COMEX | Short | Non-Agricultural Commodities | 2012-05-15 |
| Heating Oil #2 | Short | Non-Agricultural Commodities | 2012-05-17 |
| Palladium | Short | Non-Agricultural Commodities | 2012-05-09 |
| Platinum | Short | Non-Agricultural Commodities | 2012-04-25 |
| Gasoline-Reformulated Blendstock | Short | Non-Agricultural Commodities | 2012-06-01 |
| Gilt-Long(8.75-13yr) | Long | Rates | 2012-04-11 |
| Sterling Rate-3Mth | Long | Rates | 2012-05-31 |
| T-Note-U.S. 5 Yr | Long | Rates | 2012-04-27 |
| T-Note-U.S. 2 Yr | Long | Rates | 2012-04-24 |
| T-Note-U.S. 10 Yr | Long | Rates | 2012-04-24 |
| T-Bond-U.S. | Long | Rates | 2012-04-24 |