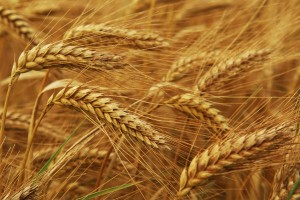 USAWH27NBAX9 
After having had a bad run most of the year the grains trends started taking off in late June and it is still going strong. For a long time earlier in the year, the core trend following trading system was actually short the grains and even made money on that trade but now the situation is very different. The grains went on a complete reversal in late June and they seem to go stronger every day. The ride in these commodities has been quite amazing so far and while it looks extremely overbought already, it has been looking overbought for quite a long time now and it still keeps going. This is the kind of move we are really looking for with these trend following trading strategies.
Almost all the grains have participated in the rally so far, including corn, wheat, oats, soybeans, soybean meal etc. The gains on this sector has helped us back above zero again on the year and this looks like a very strong month so far for trend following system traders.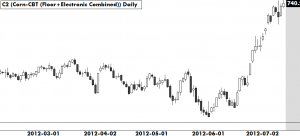 The corn chart here is a good example of what's going in in the grains space at the moment. The other grains look fairly similar at this time. The overall downwards trend which was predominant for most of the year was suddenly reversed and we got a prolonged period of very strong upwards moves in our favor.
Other sectors did well this month so far as well but none contributed as much as the grains. We also see a continued move up in the dollar which is certainly helping out as well as a continuation of the strong upwards trend in the rates sector. Amazing as it seems, the bond futures are continuing to trend up with yields closing in on zero in most of the developed world.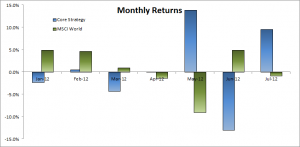 Last month was quite bad for trend followers as I'm sure you are aware. The equity markets gained while we had double digit losses. So far though, this month is shaping up to be quite a bit stronger and we are almost at double digits gains already. Taking plenty of stops last month, we had quite a low risk portfolio for a while but it is not building up to normal risk levels again and if these trends continue, we will likely have a fairly risky portfolio on soon again.