Last week I wrote about the dangers of analyzing the wrong time series. This is still a very common mistake made by traders and analysts and I cannot stress enough just how important it is to get your data right. It's not a matter of opinion. Just math. Simple continuations without basis gap adjustments are just plain wrong and so is any analysis performed on those data series.
All too often I see sell side analysts posting long term charts using these highly flawed data series and then applying some magical numerology to it, calculating a 38.1966% retracement based on a data series that has about as much basis in reality as the numerology applied on it. Well, I'll leave the attacks on numerology for a different time and tackle the data series this time.
In the article last week, I briefly mentioned the concept of term structure. This refers to the difference in the price in an asset for different delivery dates. In this article I'll take you a little deeper into this concept and try to explain why it's of absolutely critical importance to a futures trader. If you trade any futures markets above the most simplistic equity markets, you most certainly need to stay aware of term structures and how they are likely to impact your profits and losses.
The shape of the term structures can indicate a directional bias. Ignore it at your own peril.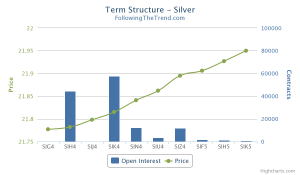 The graph to the right shows the current term structure of silver. Note that all points on this chart relates to the silver futures, but for different delivery dates. The green line connects the current prices for these different dates. Note how each successive contract is a little bit more expensive. That's the normal state of affairs for futures and is referred to as contango. If the prices are lower in the more distance contracts, it would be called a state of backwardation.
The standard futures tickers for each contract is shown, where for instance SIH4 would be the Comex silver contract with March 2014 delivery. The blue bars show you the open interest at each point. This information is not really part of the term structure, but it seemed like a useful thing to add. Generally speaking, you'll want to be in the most liquid contract. The most liquid contract is the one with the highest blue bar. Open interest is simply a running count of how many open contracts there are at any given time.
The difference in price for these contracts has nothing to do with expectations of spot price change. That's a common misconception though. The price difference reflects cost of carry. Always keep in mind that if you can hedge something, you can price is. In this case, hedging a futures position would entail buying the physical silver at the current spot rate and storing it until delivery. That takes cash, so you have to factor in the interest rate and of course storage cost. Most of us never actually do these things, but the prospects of arbitrage keeps the futures prices in line, reflecting these conditions.
The term structure shape for physical commodities have more factors involved than the financial markets. For the Nasdaq futures for instance, hedging would involve borrowing money and taking outright positions in the index constituents. So the interest rate is therefore the main factor, as no storage and such would be applicable.
Ok, enough theoretical stuff. If you're still reading so far, you're wondering where I'm heading with this and how it has any bearing on real trading. Well, try this thought experiment on.
Look again at that silver term structure. Spot price at the moment is 21.6 while the December 2014 contract is priced at 21.95. What would happen if the spot price stayed exactly the same until the end of the year? The price of the December 2014 silver, SIZ4, would fall by a microscopic amount each day until it hit exactly 21.6 on the very last day of trading.
Term structure can indicate directional bias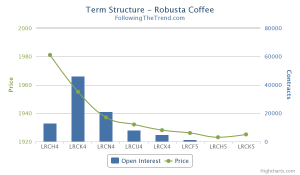 Perhaps you don't think that this is a very big price move. Well, this wasn't a very extreme example. But you still have a directional biased on the futures price, shown clearly by the term structure. If the asset you're looking at would be in a state of backwardation, you'll find that you'll have a positive bias in the futures price. If the market shows a steep or a consistent shape, this can have significant long term implications on the price. Just look at how the extreme contango in natural gas made the futures market lost over 90% in a decade while the spot price went sideways.
The term structure is just one piece of the puzzle, but it's an important piece. If the market you're trading shows a contango shape, you've got a negative bias. If the shape is of backwardation type, you've got a positive bias. There are naturally many other factors affecting the price but ignoring this valuable piece of information would be dangerous. Just look at how the change in the shape of natural gas confirmed that this very special market had really changed.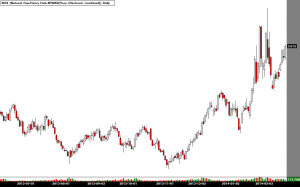 Natural gas has been in a very steep contango for decades. Every trend follower in the world and his grandmother has been short it year in and year out. It's been one of those seemingly never ending cash cows. I've written about this miraculous market many times in the past and I've always used the extreme contango as the main reason to keep the shorts on even after all these years of declines. Recently that market has started moving up, and quite dramatically to boot.
In the past, any move up in the natural gas market was just a great opportunity to enter new shorts. After all, it always kept falling. The long term chart of natural gas looks quite insane, if properly adjusted for basis gaps. The most persistently trending asset, losing over 90% in a decade.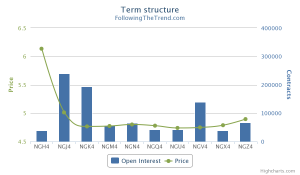 But now things have changed, it would seem. This market has always shown a very strong contango, but now that shape has dramatically changed. Look at the graph to the right. Yes, the natty is now in backwardation. This changes the picture significantly. Perhaps it will move back to contango, perhaps not. But for now, you can't treat this market like the never ending short cash machine that it has been for so long.
I hope you're starting to see the great wealth of information and value that term structure charts can bring. If you're actively trading futures, you should take a look at these shapes at least once a week to stay aware of any important changes.
The problem is of course that this data is not easily available unless you have access expensive market data terminals. At least I have been unable to find a good online source built for this purpose. So I made one myself. I collected freely available data from various sources, structured it and visualized it for you.
You have have noticed that I added a few tools of this kind recently. Professional grade analytics, made available on this site for free. I'm doing this as a bit of a test. If enough people are using it, I'll keep adding more of these kind of tools and improve the existing ones. If you want to see more of these things added, help me spread the word and increase the user base. Ideas and suggestions for new tools are of course very welcome.