Core Trend Following Rules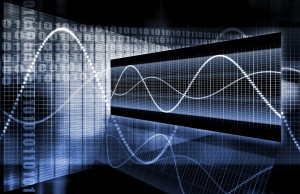 There are not a whole lot of different ways that trend following can be done. The minor tweaks may have positive results but the effect is usually very minor. If you spend too much time looking at minor variations of entry rules you risk missing the important parts. The truth is that most trend following system rules do the same thing. They show highly similar results simply because they attempt to achieve the same thing. By all means, play around with the detailed rules. Just make sure you do that after you have tried the basic strategy. Understand where the value come from first and you'll realize just how little the entry rules really mean.
The value in professional trend following strategies come from the diversification. The rules presented here are good enough to achieve results on par with the large trend following futures hedge funds. Making the rules more complex does not aid your performance. The most common amateur mistake is to spend all the time tweaking entry and exit rules and not enough analyzing position sizing and investment universe.
The simple rules presented here are good enough to replicate the performance of many large name trend following hedge funds with high precision and correlation. In my book I detail several ways this can be further enhanced and improved upon. Make no mistake though. The trading system rules is the least important component of your trend following trading strategy.
Position Size
Some markets are inherently more volatile than others. To give each position an equal chance to impact the bottom line, positions must be larger for less volatile markets. This can be achieved many different ways. My core strategy uses Average True Range (ATR) for this purpose. ATR measures the average daily price movement of a market. This can serve as a proxy for volatility. Set a target desired daily impact per position. Then calculate how many contracts you need to trade to achieve that based on the ATR. This naturally assumes that volatility remains roughly the same. This is not always the case of course. It's an approximation and as such it does the job.
For the core strategy on this website I use a desired daily impact of 20 basis points.
Trend Filter
Long positions are only allowed to be opened if the 50 day moving average is above the 100 day moving average and vice versa. This is to ensure that we don't put on trades counter to the dominant trend. It reduces the number of trades and lessens the risk of getting caught in whipsaw markets.
Entry Signal
Enter long positions on a new 50 day high. Vice versa for shorts. Go with the breakout and ride the trend. Nothing else. Signals are generated on daily closing data and the trade taken on the open the following day. Slippage is accounted for of course as well as trading costs.
Exit Signal
Exit on three average true range moves against the position from its peak reading. Thereby we have a theoretical loss of 60 basis points. No intraday stops are used, so a close beyond three ATR units are needed for a stop to be triggered the following day.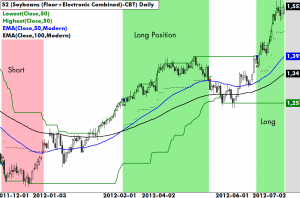 Investment Universe

Trading a trend following system on a single market or only a few different markets is suicidal. There may be long periods, even years, where there simply are no trends in any given market or asset class. The key idea is to trade many markets covering all asset classes at the same time. If you fail to do so, this strategy will simply not work.
The investment universe you chose will have a much greater impact than tweaking buy and sell rules, so choose wisely. You should chose a broad set of markets and avoid too high concentration in any single sector. In the long run, a healthy balance between all major market sectors yields the best results.
You can study a broad range of markets on the Trends of the World page, which is updated daily with charts and analytics.