Would you like to gain insight into how a quant hedge fund manager views the global markets? The Clenow Futures Report is a unique product in that takes you behind the scenes and shows you how CTA hedge funds operate and what they consider important. All major asset classes are covered both from a quantitative and a subjective point of view. The research report has several parts all aimed at raising your level of understanding of the markets and to improve your trading.
Are you ready to take a step into the institutional asset management world?
Market Report
The market report is updated every week and covers 70+ markets. The asset classes covered are agricultural commodities, currencies, equities, metals, energies and rates. Each market has a dashboard display, as can be seen to the right. The dashboard shows you an overview of what's going on in the market. Apart from a price chart, you'll also find a relative volatility chart showing how volatility changes over time. Understanding volatility is a key part of professional trading. The third of the smaller charts shows the term structure and open interest pattern. Term structure is perhaps the most important factor in trading commodity and rates futures.
For each market, you'll find key quantitative analytics. The ATR, plunger value, trend direction on different time horizons etc. You can also use the filter button to find markets that fit your own desired criteria, such as markets that are in a strong bull market but recently had a significant pullback.
Each market is illustrated with a trading chart from a professional grade trading model with a brief comment about what's happening in the market at the moment.
Trends of the World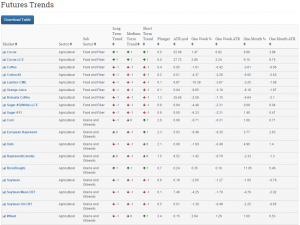 The Trends of the World page shows a structured overview of the current trending situation in the global futures markets. It gives you an overview of what's going on in 70+ markets around the world. You can see the trend direction in the short, medium and long term, as well as other relevant analytics that you won't find anywhere else.
For each market, you can go into an in-depth view that shows any detail about the market that you need as a serious futures trader.
Futures Market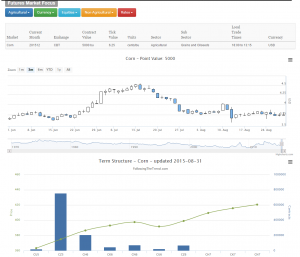 The detailed page for each market shows everything you need to know to trade it. You get all meta data, such as point value, units, opening hours, current contract etc. An interactive price chart with properly adjusted futures prices as well as an interactive term structure is on this page as well. The term structure is one of the most important parts of futures trading, still widely ignored by the retail trading community.
If you're trading futures and not studying term structure, you need to stop and reevaluate your approach.
Here you can also see what positions different trading models have open at the moment in the market in question, how volatility is changing over time and many more valuable analytics.
Sector Trending Road Map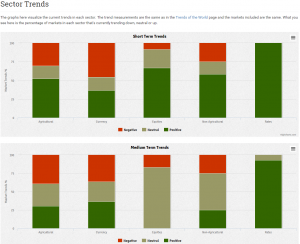 The sector trending road map page is designed to give you a quick overview of what the situation is in the global trends. We all know, or at least should know, that bull and bear trends are very different. It's considerably harder to make money from bear trends than it is for bull trends. Being aware of what sector tends to move in which way at the moment is of high importance. If you don't know whether most agricultural commodities are moving up or down at the moment, then you're wandering around blind without a cane.
This display shows you the current trends on short, medium and long term. For each sector and time frame, you see the percentage of markets moving up, down or sideways. Look at this screen at least once a week. Print the charts. Remember them and how they change. This is the key to your overall strategy.
Premium Research Library
Included in the Futures Intelligence Report is full access to past and new premium research documents. The premium research section of this site is regularly updated with new in-depth documents, often based on requests from subscribers. Several institutional grade trading models are described in great detail, including full source code. You'll also find documents about how to set up your own pro research environment without spending hundreds of thousands of dollars.
Advanced concepts are discussed in these research papers, such as how to normalize term structure and the importance of rebalancing for a professional trader.
This research library is meant to help you get to a higher level of market knowledge. This is for those who are very serious about developing their skills and are fully prepared to do the work it takes to get to the pro level. Real hedge fund trading models are described in detail and the source code for them is provided. But it's up to you to implement it in your own environment, test it, adapt it to your own needs and deploy live. Are you ready to take the big step into the pro money management world?
Live Trading Models
Some of the trading models described in the research product are also reported automatically on the website. You can follow every trade. Every buy and every sale is reported on the site and the performance is updated each day. Here you can see what happens in reality when you trade the models described in this research product.
All rules are fully disclosed
, allowing for external verification of course. The report page shows not only performance, but each trade and all current holdings. Full transparency, allowing you to build a feeling for what it's like to trade these models in real life, and even to follow the trades in real time.
Correlation Analysis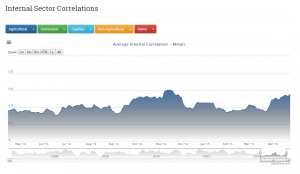 Correlations between markets is an extremely important factor in professional trading. If you're not aware of current correlation patterns, you may end up with a random risk which may be both far too high or far too low in certain components. Old mantras about what's correlating to what is not a professional way to approach the markets. These things change all the time and you need to be aware of how the financial world looks at any given time.
The Futures Intelligence Report offers to ways to keep track of correlations. You can view historical internal correlations within a sector or sub-sector. This is a type of analytic normally not accessible outside of the institutional world. By analyzing a graph of historical internal correlations, you can see when the risks are high or low in any given market segment.
The internal correlations view can tell you how the risks are changing within any sector or sub-sector.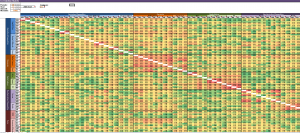 You can also see a highly detailed, interactive correlation matrix of all 70+ markets. Here you can manipulate the settings, change time frames, smoothing factors and other calculation options. You can also click back and forth in time to see how correlations between markets change. Constructing such a matrix is often beyond the reach of most non-institutional traders.
Why a Research Product?
Since Following the Trend came out, I've been getting a lot of requests to publish a regular analysis report on the global futures markets. I've been a little reluctant to do this, as the field of so called financial newsletters has a less than stellar reputation. Most of these analysis reports are either written by the sell-side, aimed at generating commissions, or they're published by self-proclaimed market gurus without actual experience of professional trading. Most proper research reports, the serious ones aimed at the buy-side, are usually priced at $50,000 to $100,000 per year and far out of reach for anyone not already established in the business.
Well, after a lot of consideration, I've decided to enter this field but in a very different way. I produce a weekly analysis report internally for the traders at our hedge fund. This paper is very far from what you may be used to getting from the sell-side. It's meant to be a road map. Just the most important points on each of the futures markets we trade. No fluff. No nonsense. Minimum text, maximum information. This is produced for people who just need the facts and who don't have an abundance of time. This is the analysis report I've decided to make available for subscription.
The price to subscribe is just $99 per month.
Even for most retail traders, $99 is just a trade ticket. The commission on a trade or perhaps two. If you find a single good idea in the report in a month, the cost is quickly recovered.
Added Bonus
Perhaps you've noticed that this site also offers an automated report on equity momentum. As a bonus for signing up for the futures report, you'll now also get full access to the entire equity momentum part of the premium site!
First week for free
The first week is of course for free. You shouldn't buy anything without inspecting it. Try the research report out for a month and see if you like it. Please let me know your thoughts, whether you like it or not. No risks, no obligations.

Price:
One week free trial, then 99.99 USD per month

Price:
One week free trial, then 999.99 USD per year
 Problems signing up?
Send us a message, and we'll fix it.