Se publica en español Acciones en marcha, una estrategia momentum completa para superar al mercado
El nuevo libro del gestor de hedge funds Andreas F. Clenow presenta un modelo profesional con toda la información para poder replicarlo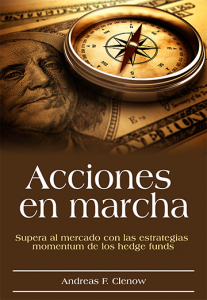 En Acciones en marcha, su segundo y por ahora último libro, Andreas Clenow expone de forma abierta y transparente las estrategias momentum que utilizan en las bolsas de valores los gestores de hedge funds para superar, con riesgo limitado, a los  mercados. Todas las reglas están ahí para que los inversores las repliquen, con la confianza de unos resultados históricos concienzudamente comprobados. El original en inglés salió a la venta en junio de 2015 con el título Stocks on the Move. A la vista del éxito, el autor ha querido que la primera traducción sea al español.
No abundan las obras de calidad e innovadoras en el mundo de las inversiones y las finanzas. Por eso es particularmente interesante que la comunidad de habla hispana tenga acceso a una de las últimas y más seguidas novedades editoriales. Clenow escribe pensando tanto en los gestores profesionales como en los inversores y traders particulares interesados en los mercados y en gestionar su propio dinero.
El libro desarrolla una estrategia momentum completa y realista de forma transparente. Nada de fórmulas milagrosas ni de resultados fantasiosos para atraer a lectores incautos. Al contrario, Clenow se dirige al inversor inteligente y lo invita a desarrollar un modelo profesional, facilitando toda la información para replicar la estrategia e incluso simularla históricamente, evaluarla e introducir las adaptaciones que crea convenientes.
En este libro, Andreas Clenow desarrolla una de sus grandes innovaciones en el mundo editorial de la inversión, que ya fue muy bien recibida por los lectores de su anterior libro, Following the Trend. Se trata de vivir en directo la implementación de la estrategia a lo largo de quince años de operaciones. En el trayecto, el inversor aprende a mantener el rumbo y la perspectiva en los momentos buenos y en los malos, que los hay; también a sortear con paciencia y sin mayores dificultades las situaciones de mercado catastróficas, como el estallido de la burbuja tecnológica en 2000 o la crisis financiera en 2008.
Acciones en marcha desmonta algunos mitos, como la supuesta excelencia de los fondos de inversión, en su mayoría incapaces de batir a los índices de acciones como el S&P 500. Utilizar ETFs para replicar pasivamente los índices bursátiles tampoco es una buena idea: el retorno es modesto en el largo plazo y el riesgo muy elevado. Se puede llegar a perder por el camino más de la mitad del valor de la cartera, como ocurrió en 2008. Sin contar con que luego hay que esperar años para recuperarse y salir a flote.
Y sin embargo, superar al mercado con riesgos limitados no es tan complicado. Muchos gestores de hedge funds lo consiguen con estrategias momentum basadas en conceptos sencillos, que son los que superan la prueba del tiempo.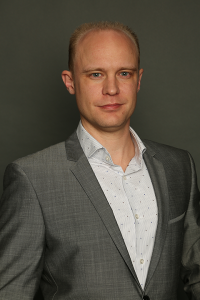 Andreas Clenow, nacido en Suecia y afincado en Zurich, Suiza, comenzó su trayectoria en los noventa como emprendedor de éxito en el área de la tecnología de la información. Posteriormente desarrolló una brillante carrera como responsable global de modelos cuantitativos para materias primas y mercados de valores en Reuters, antes de dedicarse al mundo de los hedge funds. Actualmente Clenow es socio y supervisor de gestión y operaciones en toda clase de activos de la firma ACIES Asset Management.
En 2013 publicó su primer libro, Following the Trend, sobre las estrategias de seguimiento de tendencia que aplican los hedge funds en los mercados de futuros. En Acciones en marcha, Clenow da un paso más para presentar otro rentable enfoque inversor, el momentum en el mercado de acciones.
Acciones en marcha, traducido por el periodista Andrés Campos Palacios,  está disponible en versión impresa y electrónica en Amazon. Los lectores interesados pueden obtener más información en los sitios web www.stocksonthemove.net y www.followingthetrend.com.