I'm one of the top 5% best selling trading book authors in the world. My first book was a run-away success. And yet I'm about to self publish my next work. Why would an established author want to self publish?
There is an unjustified perception that self publishing means poor quality. Let me tell you why that's not necessarily true.
Publishing Houses and Quality Assurance
Publishing houses are very careful with screening the quality of authors and their text. They do background checks, verify claims made by the author, fact check contents, provides professional images and layout, ensures a swift and streamlined printing and shipping and in the end they only take a small part of the revenue for it.
No, I'm just kidding. They don't do any of that.
The fact of the matter is that publishing houses take any content they can these days. There are approximately zero concerns about the quality of the content or the background of the author. You could argue that it's not their job to worry about these things, but the problem is that people perceive that Wiley sticker as a quality mark.
A few years ago I was shopping for a publisher. I really had no idea about publishing and I didn't know any published authors. I did my research and at first approached McGraw Hill in New York. I wrote a New Book Proposal, outlining the planned book, the target market, competitor analysis, demographics research, marketing plan, etc. Yes, publishing houses expect you to do your own research on the target demographics and make a marketing plan.
It was a little confusing experience when I first got in touch with the Senior Acquisitions Editor at McGraw. The initial reaction was overwhelmingly positive. After that, I couldn't get hold of them on the phone or email for weeks. Messages not returned. Then they came back with another overwhelming courting again, enormously eager to publish. Only to disappear for another few weeks. This went on for a couple of months and I couldn't make sense of it. Do they want the manuscript or not? It took me a while to realize that this was just standard less-than-professional conduct that I soon got used to dealing with publishers.
I finally got a firm offer from McGraw for the manuscript. Just at that time, I started growing increasingly paranoid about my legal situation. In the book, I reverse engineer some large and powerful hedge funds. I came to realize that if it turns out that some of them lack a sense of humor, they could attempt to cause some annoyance in terms of frivolous litigation. So I made a last minute decision to shield myself from any potential American entanglements.
As it turned out, none of the funds I mentioned in the book had a problem with it. Most of them contacted me for a chat and none disagreed with what I had written. Some of them I now consider very good friends. After taken steps to make myself untouchable, I was almost disappointed that no one even got upset. Almost.
I decided to publish with Wiley in London instead. No, I won't tell you what other steps I took to shield myself from American litigation over the book. But one thing I did was to change to a UK publishing entity.
Wiley signed me very quickly after hearing that I was about to turn down McGraw. They weren't overly interested in the content and they did no checks on me whatsoever. Their only content quality control was to ask me for a list of people who would know the topic. They then sent books to those people and waited for comments. Only one returned with comments in time. Some competing authors that I recommended agreed to review and comment, but never replied again after having received the book.
Oddly enough, six months after I had notified McGraw in writing that I thanked them but declined their offer, they contacted me to ask if I posted the signed contract to them yet and when I'm ready to deliver the manuscript. Of course, at that time, I had learned enough about publishing not to be surprised.
Time to Market
From when I had finished the manuscript, it took 9 months for the book to be ready to ship. This may seem like an extremely long time to get a book out the door. After all, you could ship a whole new person in that time frame. Trust me, I've done that too.
First there was the copy edit phase. This was a very positive experience. The copy editor for my book didn't know a thing about finance, but he didn't have to. He did a great job in finding all my errors. Except of course that embarrassing one in the first sentence of the preface, where the word 'publically' still resides. Well, you can't catch them all. He did a good job. Perhaps it helps that he was a contractor.
Finalizing the text with the help of the copy editor took a month or so. After that, we should be ready to rock, right? Nope. Doesn't work like that. There's a 'pipeline' of some sort. There are project managers and committees involved.
After about half a year, we were supposedly ready to go live. After some delays, the book finally showed up in the UK market in November of 2012. However, on Amazon.com it still wasn't available. December and Christmas shopping came and went, and still no books in the US. I finally got frustrated enough to demand some answers.
As it turns out, Wiley prints all books in China. Then they put them on a boat. That boat goes to a London warehouse. Then they are put on a new boat. That boat goes to the NY harbor. Those books goes into a customs warehouse. It takes a month or so for DHS to release those books. Then they are put on trucks to ship to Amazon and other US retailers.
That process takes a while.
Naturally I asked if a large publisher such as Wiley doesn't own printing presses in America. The answer, which I knew by heart by then, was that 'everyone does it this way' as well as 'we have always done in this way'.
Cover Design
Well, so the publishers don't really check the content, but at least they design a professional book cover, right? The way that it works is that you tell them the high level concept of the book and the publisher's design team comes back with a few variations that you can chose from. In my case, they suggested one of these four covers.
Yes, those four cover designs are all created by professional graphic designers who are getting paid to do just these kind of covers. I politely passed on these designs and made my own. All it took was a couple of hours browsing stock photos and a bit of mucking around with Photoshop.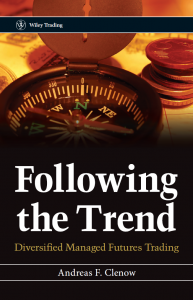 The Marketing Machine
Ok, so publishers don't do quality assurance, they take ages to get things done and they have the design skills of your average kindergarten child, but at least they market the book for you.
No, actually not really.
The Wiley marketing mostly consists of putting a picture of the book in their own printed book catalogs and on their website. There's really no active marketing done. Even when my book far surpassed the sales of most other trading books, they didn't spend anything on marketing in.
The Wiley sticker itself will however give you a higher probability of getting shelf space in the book stores. Some retailers have dedicated shelves for each major publisher. Of course, an overwhelming percentage of books are sold by Amazon these days and quite a small portion by the slowly dying physical book stores.
This was the one point where I thought that I could really rely on Wiley. To get me shelf space. When I travel around the world, I often go looking for my book when I pass a book store. Some book stores tend to have it, such as financial book stores in major airports. Other very large places, like Takashimaya in Singapore usually does not.
Relying on a publisher to get you shelf space is a bit of hit-and-miss. I wouldn't count on it happening, even if you've got a best seller. And, at the end of the day, book shopping is done online these days anyhow.
Terms
Publishers still pretend that it's 1960 and that there are no alternatives to them. The deal you'll be offered with a major publisher may seem a little surprising to most. Hint: They'll take almost all the money.
A normal deal would involve you getting around 15%. That is, 15% of the price that the publisher sells to the retailers. Not 15% of the actual price that the consumer pays. For an expensive book priced at around 60 USD, you'll probably see around 5 bucks a copy.
Of course, it takes a while before you get paid. Normally, you'll get paid around April, for the prior year. That is, the books might be selling great all of 2014 but you won't see a cent until April of 2015.
But what about royalty advance? Yes, normally you'll get an advance in the beginning. Bear in mind that this is not like a signing bonus. It's an advance, meaning that it's deducted from future sales before you get paid. A normal royalty advance for a trading book is somewhere around 5'000 to 10'000. Not really enough to make anyone excited. You can get a little higher once you're well known, but it's not going to reach any really interesting numbers.
It's low because it keeps risks low for the publisher. They can sign a large amount of authors cheaply and hope that some of them take off. If they pay a high advance, they'd be forced to invest in marketing to ensure that they'll make the advance back.
A Ship Comes Loaded…
A year after my book came out, I started getting emails from people telling me that it was impossible to find it. Amazon had it listed as out of stock for a long time and no book store seemed to have it. Concerned, I spoke to Wiley. It's temporarily out of print, I was told. It sold so much faster than anyone thought that the initial print ran out quickly. I pointed out that it's been almost two months and the book isn't available. Customers are complaining. What's being done?
Don't worry, they told me. The ship is already on the way from China.
Why use a Publishing House?
Well, so far we've established that publishing houses do next to nothing for you, while taking almost all the money. So why would anyone publish with them?
Many people still view it as a sign of quality. Wiley, McGraw etc on the cover makes it look official. It's a fallacy, but it may help you look more like a 'real author'.
It's easier than to self publish. There are processes in place for editing, formatting, making e-book versions, supplying retailers etc. If you don't want to care about any of these things, it's easier to go the traditional route.
Self publishing sometimes gets undeserved poor reputation, stemming from the onslaught of very low quality books coming out of it. Since anyone can publish anything this way, there's some truly terrible junk being self published. But so what? There's terrible content coming out of normal publishers too, it's just packaged better.
Most people still aren't really aware of how much self publishing has progressed and how large the advantages are.
My Self Publishing Experiences
My new book, Stocks on the Move, will be self published via Amazon's Createspace subsidiary. In the next couple of months, I'll write about my experiences with them and try to provide some advise for how to self publish your own book.
It was a very useful experience to publish with Wiley. Armed with the knowledge gained from that process, I'll now go forward with self publishing and I'll report along the way about how I did it and why I did it this way.
Stay tuned.