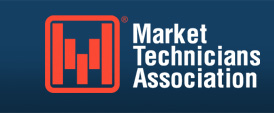 I'm a member of the Market Technicians Association (MTA) and a holder of their Chartered Market Technician (CMT) certification. But not for long. I had a good reason for joining and I have an even better reason for leaving. What I actually lack a good explanation for is why I remained a member for so long time.
The MTA is the largest and most well known technical analysis organization. They are primarily based in NYC, but have chapters in cities all over the world that meet regularly. They also have the CMT certification program, what they would like to market as the technical analysis equivalent of the CFA.
I joined the MTA a long time ago. At that time, I was relatively new in a for me unknown country where I lacked industry contacts. My plan was to join the MTA and do the CMT certification to get to know the local financial community. It was, as much as I despise the term, a networking effort. As such it actually paid off. By pure luck, I ran into someone through the MTA that I ended up staring a business with. The fact that he later later stole a large sum of money from me, hid behind his shady Panamanian shell company and threatened to sue me if I ever speak of his theft is of course a completely unrelated story. These things happen.
When I was reading the books for the CMT exams, I started getting a little worried about what I was associating myself with. I had expected that an organization like the MTA would take some sort of responsibility for content, encourage research and critical thinking. Well, not so much. It's more about reading some rather far out mysticism books and parroting the content back.
On the book list, you'll find some classic old TA books, some that are written by people who are friends with the education committee, and some that are just ridiculous new age nonsense that doesn't stand up to any sort of critical review.
Before you sign up for the CMT program, consider the type of questions you'd have to answer. Take a look at the sample questions here to get a feel for what kind of skills are required.
In a normal 5-wave Elliott upward motive impulse wave, which wave is most likely the longest and most dynamic?
a. First
b. Fifth
c. Third
Elliot wave, for those lucky enough not to be familiar with this concept, is a religion based on the belief that everything in the universe moves in a predictable wave pattern of five waves divided into three sub waves. Totally relevant for a finance professional. Bringing up this subject in a real job interview for a serious finance job is on par with discussing your theory about the chemtrails that the CIA are spraying to make us all forget about how they demolished the twin towers.
Which of the following is a Fibonacci ratio used in retracement?
a. 33%
b. 50%
c. 66%
d. 75%
Yes, I guess we can't have magical waves without magical ratios. Fibonacci numbers are for the mathematically impaired and for highly impressionable people with limited ability of critical thinking. This particular question is even more odd, since none of them would strictly speaking be true. Yeah, they're looking for 50%, but that's only a Fibonacci ratio if you really, really stretch the already wafer thin concept. The series starts 1, 1, 2, 3, 5, 7, 13… When you the numbers increase a bit, you start getting a more stable ratio, should you for some reason divide consecutive numbers. As with most such series, the lower the numbers are, the higher the variation and if there was any sort of predictive value in this approach, which there isn't, shouldn't the reliability come in after the numbers grow? I mean, dividing 1 by 2 and calling it a Fibonacci ratio? Well, since all the other ratios are nonsense numerology anyhow, I guess it really doesn't matter.
There's not just the obvious Fibonacci and Elliot scams they ask about, but they even touch a bit on my own field:
Trends are more likely to persist than reverse in
a. no markets.
b. all markets.
c. bull markets only.
d. bear markets only.
I would have failed this one. I would argue for C until the devil comes for me. Yes, you can use trend following on the short side but that's bloody tough and gives you very low success probabilities. The short side helps your return skew, but to stay that trends are more likely to persist than reverse in bear markets is stretching it.
Regarding trends, which of the following statements is NOT correct?
a. Always trade with the trend.
b. A trendline break is at least a warning of a changing trend.
c. Breakouts from support/resistance are usually a change in trend.
d. The longer the trend, the more difficult it is to identify its reversal.
Another one in my own field that I would have failed. Certainly one is a very dangerous statement, when expressed as an absolute. Trend lines are highly subjective and cannot be properly tested, so who knows. Breakouts would very much depend on what direction it breaks out in, relative to previous price direction, so perhaps they mean that. As it turns out, they're looking for the last answer, which I 'm  really sure what they mean by.
Let's have a few more funny ones:
The Kondratieff Wave extends for a period of approximately
a. 13 years.
b. 54 years.
c. 13 weeks.
d. 54 weeks.
Which of the following is NOT a valid trading rule using Elliott Wave Theory?
a. Identify a main trend
b. Determine the current status of the main trend by locating the major peaks and bottoms
c. Look for five wave corrections and three wave sub-trends or extensions
d. Draw trendlines to determine direction
Which of the following is true of W.D. Gann's trading techniques?
a. His work is valid for equities but does not apply to commodities
b. When price meets time, a change is imminent
c. Gann used 10%, 20%, 30% and 40% as his key resistance and retracement levels
d. Gann's work is an advanced interpretation of point and figure charts
Which of the following is a true statement according to Elliott Wave Theory?
a. A complete bull market cycle is made up of eight waves, three waves up followed by five waves down
b. A trend divides into three waves in the direction of the next longer trend
c. Corrections always take place in five wave patterns
d. The two types of simple corrections are zigzags and flats 
Which of the following is a true statement according to Elliott Wave Theory?
a. Triangles are usually second waves preceding a longer third wave
b. Waves can be expanded into longer waves and subdivided into shorter waves
c. In the stock market, wave 5 is the most common to extend
d. The Pythagorean theorem is the mathematical basis for Elliott Wave Theory 
Which of the following is a true statement according to Elliott Wave Theory?
a. Wave four should not overlap wave one
b. The theory is composed of time, ratios and wave forms, in that order of importance
c. The theory was originally applied to individual stocks and does not work as well for indices
d. The theory works best in commodity markets traded primarily by professional traders such agricultural futures 
Which of the following is NOT a basic principle of cycles?
a. Summation
b. Synchronicity
c. Harmonicity
d. Alternation 
Which of the following places the cycles in time length order?
a. Lunar, presidential, seasonal, alpha/beta and Kondratieff
b. Kondratieff, presidential, alpha/beta, seasonal and lunar
c. Alpha/beta, presidential, seasonal, lunar, and Kondratieff
d. Alpha/beta, lunar, seasonal, presidential and Kondratieff 
Which of the following is a CORRECT inter-market relationship
a. Bond prices move inversely to equities
b. Bonds prices trend in the same direction as commodities
c. The U.S. dollar moves inversely to commodities
d. Financial stocks trend inversely to bonds 
Which of the following is a CORRECT interpretation of the shooting star pattern?
a. It is even more bearish than the gravestone doji candle
b. Shooting stars in charts, as in life, are omens of good fortune
c. The color of the real body is of utmost importance to its significance
d. It is a bearish reversal pattern 
Which is NOT true of the three advancing white soldiers' pattern?
a. It is a gradual and steady rise
b. Each real body opens within or near the prior session's real body
c. It is composed of three white candles with successively higher closes
d. Each candle should have a long upper shadow
Well, I think you get the picture. It gets worse from there. Including charts where you have to give your analysis based on magical waves and numbers and predict future direction.
To receive the CMT title, you need to pass three exams of the style shown above. That is, repeat without questioning what's in the book no matter how absurd. You need to pay too of course. Every year. Not just while doing the exam. You have to keep paying, every year for the rest of your live. Else they'll take the CMT title away. Oddly, my old university never threatened to take away my master's degree if I didn't pay them a yearly kickback.
The fees?
$250 for registration to the CMT program.
$250 for doing the first CMT level exam.
$450 for doing the second level exam.
$450 for doing the third level exam.
$300 every year for the rest of your career.
If you do the whole thing in three years, it will only set you back about 2k. And if you remain a member the rest of your career, it's just another 12k or so, not to lose the title.
The larger problem is reputation. Do you want to be associated with these get-rich-quick schemes targeted at neophyte retail traders? Putting CMT after your name these days makes people worry. Oh no, not another obsessed numerologist again…
As I wrote about before, it's not that the underlying ideas of TA are stupid. It's just that it's become a bloated subject full of everything from moon cycles to magical waves. It's also attracted such a massive amount of people with little to no knowledge or desire to learn, who sees TA as a get-rich-quick scheme. They're just ripe marks for the thriving market of TA scam artists out there, pushing books, courses, mentoring, coaching etc.
If the MTA wanted to be taken seriously, they should have addressed this a long time ago. The key skill to learn in the TA field is critical thinking. Most is BS and you need to learn how to identify it. How to apply critical thinking and properly test methods before taking them at face value.
But that wouldn't get as high membership count.
Dear MTA, Thank you for these years and I wish you best of luck. But I won't be renewing my membership.
So long and thanks for all the fish!